In today's world of finance, Credit Cards have become a very important tool for an individual. They offer security, flexibility, and convenience altogether. However, CCs are not equal, they all are unique with different credit limits, and offer two options.
Well, now when you have to find the one for you, this is where pre-approved credit cards come in.
These cards are also known as 'pre-qualified' credit cards and the applicants are mostly the ones who don't want to face rejection.
In this blog post, we will understand pre-approved cards in depth. By that, we mean diving into what they are, what they offer, and how to apply for them.
What are Pre-Approved Credit Cards?
Pre-approval credit card offers are basically offers provided to applicants on the basis of their credit history or score. The issuer conducts an inquiry that is not in-depth though to just assess the creditworthiness of the applicant. There are also eligibility criteria involved and once someone meets them, they may be offered an extension of credit period.
Are Pre-Qualified Credit Cards Better?
Well, they actually are better. The applicant issues their offers whereas Pre Approved CCs are issued by the bank/institute. You can also check these offers on card company websites or credit bureaus.
How Does the Pre-Approval Credit Card Process Work?
When the card issuer extends a pre-qualified credit card offer, they do it on the basis of the information available in one's credit report. This information is delivered from credit bureaus, and they collect and maintain records of credit history and financial history. The issuer assesses factors such as credit score, payment history, credit utilization, and overall financial stability to judge your creditworthiness.
It is important to note that a pre-approved credit card does not guarantee approval. Once you've received the offer, you still need to apply for the card. During the process of application, the issuer will conduct a detailed credit inquiry to verify your creditworthiness, income, and other details. The decision to approve or deny your application is made based on this credit inquiry.
How can you Apply for a CC without affecting your Credit Score?
Applying for a CC is not easy. It involves an in-depth credit inquiry, which can have a negative influence on a person's credit score. However, there are several ways to apply for a CC without affecting your credit score. Here are some tips to help you do so:
A lot of card issuers offer a pre-qualification process for you to know if you'll be approved for a card without the inquiry.
Before you apply for a credit card, make sure you look at what the issuer needs from you. Applying for cards whose needs you cannot meet is just wasting your time. This can also be bad for your credit score.
You should try avoiding multiple card submissions in a short time. When the issuer will inquire, this can eventually affect your credit score. We would again suggest you only apply for a card you need.
You can get a free copy of your credit report from the Credit Bureau. There are three major CBs around Equifax, Experian, and TransUnion. Look for any errors or anything that is not right that might affect your credit score.
Benefits of Pre-Approved Credit Cards
1. Convenience
Pre-approved CCs offer a simpler application process. This makes it convenient for people to access credit without going through the trouble of a lengthy application.
2. Higher Chances of Approval
Once you receive a pre-approval credit card offer, it will suggest that the issuer has already reviewed your credit profile and believes you've met their criteria. This increases the chances of approval for a regular credit card.
3. Time-Saving
Best pre-approved credit cards eliminate the need to look around for a suitable card for you. The offers are made for you, which saves time and effort in comparing various credit card options.
4. Credit Building
For applicants with limited credit history or those working on improving their credit scores, a pre-approved CC is a valuable tool. Responsible usage of it can help the individual to establish or rebuild credit.
Best Pre-Approved Credit Cards for 2023
Here are the top pre-approved credit cards in 2023. Our experts at Cardneeds have curated a list of the best credit cards for you below:
| Credit Card Name | Issuer | Rewards/Fees |
| --- | --- | --- |
| Capital One Venture Rewards Credit Card | Capital One | Rewards, Annual Fee |
| OpenSky® Secured Visa® Credit Card | OpenSky | Secured, No Rewards |
| Blue Cash Everyday® Card from American Express | American Express | Cash Back, No Annual Fee |
| Petal® 2 "Cash Back, No Fees" Visa® Credit Card | Petal | Cash Back, No Annual Fee |
| Discover it® Secured Credit Card | Discover | Cash Back, No Annual Fee |
| Capital One QuicksilverOne Cash Rewards Credit Card | Capital One | Cash Back, Annual Fee |
| Apple Card | Apple | Rewards, No Annual Fee |
| Venmo Credit Card | Venmo | Cash Back, No Annual Fee |
| Mission Lane Visa® Credit Card | Mission Lane | No Rewards, No Annual Fee |
| Prosper® Card | Prosper | No Rewards, No Annual Fee |
| Upgrade Cash Rewards Visa® | Upgrade | Cash Back, No Annual Fee |
| AvantCard Credit Card | Avant | No Rewards, Annual Fee |
| Capital One Platinum Credit Card | Capital One | No Rewards, No Annual Fee |
Top Five Pre-Approved Credit Cards For You
Build your credit with these three unique credit cards:
1. OpenSky® Secured Visa® Credit Card
OpenSky® Secured Visa® Credit Card – No bank account or credit check is needed. A $200 minimum deposit determines the credit limit. Timely payments are reported to major credit bureaus. $35 annual fee.
2. Upgrade Cash Rewards Visa®
Upgrade Cash Rewards Visa® – Combines credit card features with personal loan convenience. Fixed monthly payments. See potential credit limit during preapproval. $0 annual fee.
3. Prosper® Card
Prosper® Card – No security deposit required. Low annual fee. Credit limit from $500 to $3,000. Automatic reviews for credit limit increases. $0 introductory annual fee, $39 for subsequent years (auto-pay available).
4. Capital One Platinum Credit Card
Capital One Platinum Credit Card: Low-maintenance option for average credit. Quick pre-qualification. Potential for higher credit limit within six months. No rewards or annual fees.
5. Blue Cash Everyday® Card from American Express
Blue Cash Everyday® Card from American Express: Pre-qualification with good credit (FICO 690+). Earns cash back on groceries, gas, and online retail. $0 annual fee. Terms apply.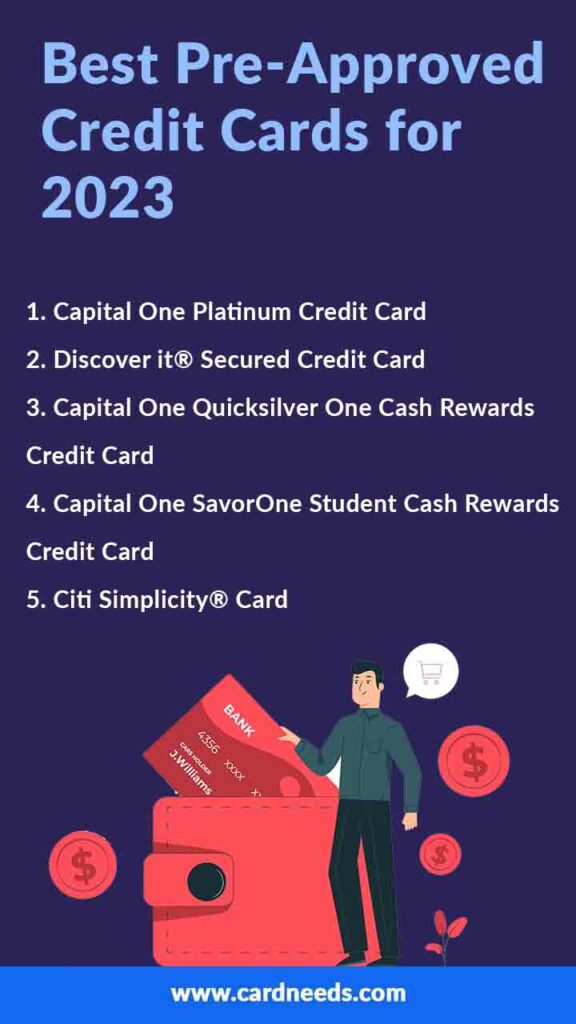 Limitations of Pre-Approved Credit Cards
1. Limited Time
Pre-approval offers normally have a very limited time frame where applicants can take advantage. This encourages action on the part of potential applicants
2. Unique Offers
These offers are customized to match the applicant's financial profile. Well, the terms, rewards, and benefits of the credit card may be more favorable if compared to standard credit card offers.
3. Soft Credit Inquiry
The pre-approval process normally is all about a soft credit inquiry, this does not impact the applicant's credit history in any way. This differs from a general credit inquiry that happens when a formal credit card application is submitted.
Types of Pre-Approved Credit Cards for Credit Situation
1. Pre-Approved Credit Cards for Bad Credit
For people with bad credit scores, getting the best pre-approved credit card can be difficult, but there are some options available. These cards are designed to only help people rebuild their credit history and improve their credit scores. Here are some types of pre-approved credit cards for bad credit:
2. Secured Credit Cards
These cards generally demand for a security deposit, which acts as a collateral for the credit limit. The credit limit is typically equal to the deposit amount. They are easier to get approved for as the deposit reduces the risk for the lender
3. Subprime Credit Cards
These are unsecured CCs that are available to people again with bad credit. However, they come with higher interest rates, fees, and lower limits of credit.
4. Credit Builder Loans
Some financial institutions offer credit builder loans that act like savings accounts. Just the way you make regular payments, here also the lender reports your activity to credit bureaus to improve your credit score. After the loan is paid, you may have the option to convert it into an unsecured credit card.
Pre-Approved Business Credit Cards
Business owners generally receive pre-approved credit card offers designed to their business needs. These cards often come with benefits geared toward business expenses. Here are some common types of the same:
1. Business Rewards Credit Cards
These cards offer rewards, cashback, or points for various expenses, such as office supplies, travel, or marketing. They can help businesses save money on different kinds of purchases.
2. Business Travel Credit Cards
They are made for people who travel often for work, these cards often offer travel-related perks like airline miles, airport lounge access, and travel insurance.
3. Business Cashback Credit Cards
These cards provide cashback rewards on specific business categories like dining, gas, or office supplies.
4. Business Charge Cards
Charge cards are different from normal credit cards as they don't have a spending limit that is pre-set. Not to forget that you must pay the balance amount every month. These cards mostly help businesses to manage their cash flow.
Managing Pre-Approved Credit Cards
1. Review the Offers
Carefully go through the terms and conditions of the credit card offer. Learn about the interest rates, annual fees, rewards program, and any charges associated with the respective card.
2. Compare Offers
If you receive an offer, it's better to compare it with other credit card options in the market. You can look for better terms, lower interest rates, and more attractive rewards before you make a final decision.
3. Avoid Temptation
While a pre-approved credit card can be tempting, you must avoid overindulging in crazy spending. Try maintaining a budget and using the card responsibly to prevent debts.
4. Pay on Time
Timely payments are important to maintaining a good credit history. Set up payment reminders or sync automatic payments to ensure you never miss a due date. With that, you can aim to pay the full amount to avoid unnecessary interest charges.
5. Monitor Your Score
Consistently check your credit score and credit reports to track your progress. This allows you to spot and rectify any errors promptly.
Frequently Asked Questions
1. How does a pre-approved CC affect your credit score?
Well, a pre-qualified or approved CC does not guarantee approval. Both the cards involve soft inquiry which does not affect credit score in any way.
2. Can you be rejected by the issuer of a pre-approved credit card?
Well, it is not a common thing to happen but yes. In a rare case, the card issuer may deny your application even after they have sent you an offer of credit. The reason might vary as per the applicant.
3. What happens if you get approved for a pre-approved CC but don't use it?
Well, even if you don't use your pre-approved credit card, you'll lose nothing. You can still make purchases but all you have to know is let your loan officer know about it before it expires.
4. How many times can an individual get pre-approved?
So, the answer to this is that there is no fixed number of times for an individual to get pre-approved. In fact, they can and should get approved by multiple loan lenders.
5. How long does it take to receive a pre-approved credit card offer?
Normally it takes up to 7-10 days to get there. However, in some cases, it may take less time. To speed up the process, you should make sure you have your Transaction history documents handy with you.
Conclusion
To conclude, pre-approved cards have become an important financial tool in today's world. Even though they do not provide guaranteed approvals as such, it does increase the chances of getting a credit card in play. The case of being rejected by the issuer is rare but not impossible.
These pre-approved credit cards are user friendly delivering financial flexibility and security to an individual. By understanding and managing these cards, applicants can make the most out of them.